▷ Christmas in New York: The Ultimate Guide 2020 🎅
Christmas in New York is a very special time in the city and arguably the most wonderful time of the year. There's so much to do and so many things you really shouldn't miss. As locals, we know about the most interesting events, most exciting shows and places you have to visit while visiting New York during Christmas.
In this guide, you'll get to know the best things to do at Christmas in New York, what you shouldn't miss and what's not worth doing from our perspective.
Is Christmas a good time to visit New York?
If you don't mind winter weather and are willing to bring a bunch of warm clothes and jackets with you, December in New York will be a great time for you to visit NYC. If you enjoy Christmas and everything that comes with it, New York is the place to be. There are Christmas decorations all over the city and there's the Christmas Tree at Rockefeller Center which attracts masses of visitors daily. So, is there anything else better to do than Christmas Shopping in New York City?
December in NYC
What is there to do in NYC at Christmas?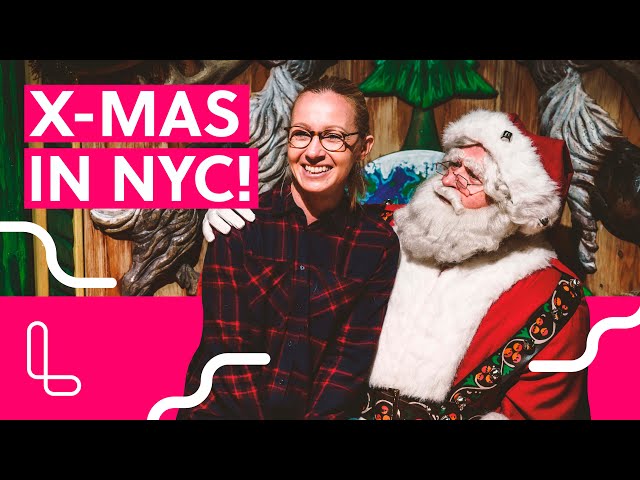 It's the most wonderful time of the year. If you happen to be in New York City on Christmas, you're not going to regret it. There is a reason why the city has been featured on endless TV shows and blockbusters during the holidays. Christmas in New York is magical and there are many different ways to get into the holiday spirit in NYC. Here is what we recommend doing on Christmas in New York:
Ice Skating is a big thing during Christmas time in New York. The most famous ice rinks are the ones in Bryant Park, the Rink at Rockefeller Center with the Christmas Tree in the backdrop and of course the famous Wollman Rink in Central Park. Here is more information about the Ice skating in NYC and their different prices.
Check out a NYC Christmas Lights Tour
Christmas in New York can be overwhelming when you're not familiar with the city too much. During Christmas time there are a couple of tours we can highly recommend doing to completely zone into the Christmas atmosphere in the Big Apple. Decorations and lights in the city remain unparalleled, there's simply nothing just like this. The best way to explore the magic is by taking a NYC Christmas lights tour.
Christmas Shopping won't be complete if you're not going to see Macy's Christmas decorations, the 9th floor, better known as "Holiday Lane" and famous Santaland on the 8th floor. Here you can find the most amazing Christmas Decorations. Christmas at Macy's is very popular for its Holiday Lane at Herald Square. Shop some of the most glittery Christmas Tree decorations, memories that will last for a lifetime.
You can actually set up a date with Santa Claus in NYC by visiting the Macy's website and reserve your desired time slot. We've visited Santa this year and had such a blast.
Christmas at Macy's
Holiday Markets during Christmas in New York
Depending on where you're traveling from your experiences with holiday markets might be a little different compared to what you're gonna see in New York City. As a German expat living in New York, I found it very interesting that there are no such things as "Glühwein" or anything like that on the best Christmas Markets in NYC. Holiday markets in NYC mainly sell handmade goods, accessories and of course food. The Bank of America Winter Village at Bryant Park is one of the most famous markets in the city.
Another great holiday market in the city is the Columbus Circle Holiday Market. This one offers a romantic atmosphere with over 100-holiday booths (Address / Entrance: Central Park South at Central Park West).
A little more Downtown the Union Square Holiday Market has more of a European feel to it. More of how I remember holiday markets in Germany. Besides the 150 food vendors, New York artists are also stationed here and show off their skills (Address: 14th Street to 17th Street, between Broadway and the southern Park Avenue).
THE BEST NYC CHRISTMAS MARKETS
Christmas Tree at Rockefeller Center
This is something you can't miss during the holiday season in New York City. The famous Christmas Tree at Rockefeller Center is the highlight during Christmas in New York. What most of the visitors only know from pictures or movies comes to reality during that special time of the year.
The annually Tree Lighting Ceremony is always a big event with live performances until they light up the tree around 10 p.m. for the season. There's even a Rockefeller Tree Lighting party where you won't have to wait for hours in the crowds to see the tree in full effect.
More Info
Holiday Windows in New York
Right after Thanksgiving in New York, the city is decorated with wreaths, holiday signs, and bright lights. Each year, New York City department stores design their entire window displays and usually has a theme. You can tell department stores put time and effort into these decorations. There is a lot of detail that goes into the Holiday Windows in New York.
Of course, this is not just something special for New York tourists. Strolling through the streets of New York and admiring the beautifully decorated holiday windows is something you shouldn't leave out during Christmas in New York.
Radio City Christmas Spectacular
Radio City Music Hall is a well-known concert and event hall located on Sixth Avenue and can be recognized from a distance by its striking exterior lighting. Throughout the year, concerts and events take place here such as the popular Radio City Christmas Spectacular. This is a classic Christmas in New York. I've watched it before and it's exactly what you would expect from a Christmas show in New York City.
Over 140 sensational dancers perform in pure Christmas spirit here for 90 minutes. Sparkling costumes, a unique stage set and loads of Christmas songs inspire audiences every year. The stars of the show are Santa Claus and his elves, "The Rockettes". The Rockettes have the reputation of being one of the best dance groups in the world! Prices start at as low as $32.
Check Tickets More about the Rockettes
Dyker Heights Christmas Tour
Check out the Brooklyn neighborhood of Dyker Heights and Bay Ridge. The houses there are decorated with thousands of Christmas lights, toy soldiers and candy canes. It's become a tradition to light up the house after house. The Dycker Heights Christmas tour is a great thing to do during Christmas in New York to get the most of the area in Brooklyn.
Check Tickets More About The Dyker Heights
Central Park, of course, is always a great destination to go to while visiting New York City no matter the season. But during Christmas, you might get lucky and get to see the park covered in snow. Central Park itself is already peaceful and magical, but when there's snow, it almost can't get any prettier. Make sure to visit Central Park during Christmas in New York and head to Woolman Rink for some unforgettable Central Park ice skating.
Christmas Holiday Cruises in NYC: New York City Cocoa and Carols Holiday Cruise
Why not spending time on a Christmas Holiday Cruise during Christmas in New York? Both locals and NYC visitors love the amazing Christmas Cruises New York City has to offer.
My favorite holiday cruise is the New York City Cocoa and Carols Holiday Cruise. The Jazz Band on board is fun and so talented which makes the New York City Cocoa and Carols Holiday Cruise even more entertaining. Relax in the heated main observation cabin, join in the caroling, and admire the city through the glassed-in observatory on the 1920s style yacht.
Book now
My favorite Christmas Restaurants in NYC
While most stores, sights, and attractions are closed for Christmas there are many really great restaurants in NYC that are open on Christmas Day, 25th of December. From Tavern on the Green in Central Park to restaurants with a view on Times Square and cozy insider spots in Tribeca, there's quite a lot to choose from. If you're looking for a NYC restaurant that's open on Christmas Day check our complete guide to the best restaurants on Christmas Day.
Christmas Restaurants NYC
Christmas in New York FAQ's
What open in New York on Christmas Day?
There's no reason to stay in on December 25—New York City has plenty going on for Christmas Day, from restaurants to theaters. Check out your favorite restaurant in the city, broadway shows and the main attractions in NYC to find out what to do on Christmas Day in NYC. Grocery stores are open but will close early on Christmas Day. Government buildings are closed on Christmas Day. The MTA runs on a weekend/holiday schedule so stay alert for changes in your transportation throughout the city. To find out more about what's open on Christmas Day in NYC read our article below.
What's open on Christmas Day in NYC
Does it usually snow in New York at Christmas?
Even though we can't predict the weather, it is a safe bet to state that it will snow at some point during the Christmas season in NYC. Regardless of the snow, NYC sure is a Winter Wonderland during the holiday season. It doesn't matter if it snows or not.
Is Christmas in New York worth it?
Absolutely. If you're wondering if Christmas in New York is any good we can only assure you that it is just like you would expect it after watching all the Christmas movies that were filmed in NYC. Everything is decorated and there are Christmas trees wherever you go. There are so many things to do at Christmas time in NYC that you will be surprised how wonderful Christmas in New York really is.
When does Christmas in New York start?
Christmas in New York usually starts right after Thanksgiving when the city is slowly changing into a Christmas wonderland. With the Christmas tree lighting ceremony, the holiday season officially begins and there is not a single neighborhood in NYC that doesn't look like Christmas.
Where are the Christmas balls in NYC?
The Christmas balls in NYC are located at 1251 Sixth Avenue in Midtown Manhattan. Beside the Christmas Tree at Rockefeller Center, the Christmas balls are one of the most photographed Christmas decorations in the city. The giant Christmas ornaments are right in front of 1251 Sixth Avenue building (Exxon Building) which is across from the Radio City Music Hall.
Sharing is caring 🎁 don't forget to share this post on Pinterest !